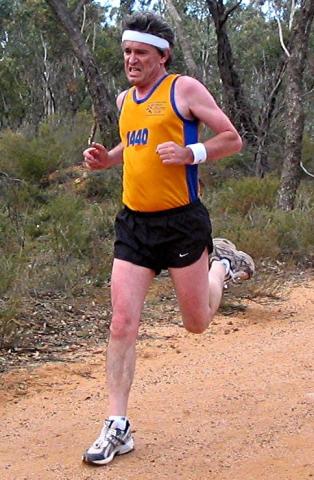 Today's legend is long time member and sponsor George Flack. George Joined the Bendigo Athletics Club in its
infancy in 1976. George was coached by fellow BAC Life Member John Burke for the entirety of his running career
and owes a lot of his success on the track to Burkey's training and guidance.
In 1979 Flack twice tasted success during the BAC winter season winning the 6.5km race at One Tree Hill and a very
tough 8km at Mandurang. In 1980 George had his most successful season with the Victorian Athletics League
winning 4 races in the one season (3 in the space of 8 days). George won the Avoca novice mile earlier on in that
season before taking out the Bendigo restricted mile and the Bendigo 3200m on the Labour Day weekend, a week
after that George backed it up with a win at the Burramine mile.
In 1990 George was part of the Bendigo team that claimed victory in the Otway classic. The Otway classic was a
relay event that consisted of 7 runners in each team running over the Queen's Birthday weekend finishing on the Monday
in the main streets of Lorne.
In 1991 George had his most consistent season with Bendigo Athletics Club winning the
club aggregate. George received a travel voucher as his award and used it on a holiday to Perth.
In 1993 George was elected Vice President, a role that he would carry on till the end of the 1997 season. During that time George won
back-to-back Best Clubman awards in 1995 and 96 for the ongoing work he did to promote the club and help
to keep the club afloat financially .
At the end of the 1997 winter season George was elected as Club President, a role that he held till the end of
the 2002 season. During that time George was awarded with Club Life Membership and also had the club honour
board named after him (displayed in the BAC clubrooms).

During the early 2000s George transitioned into Veterans competition where he claimed victory in the Meadowglen
veteran's mile in 2006. In that same year George won the Murchison 10km race which back then was
considered one of the clubs biggest races of the season.
During Georges amazing running career he has also been one of, if not the most dedicated sponsor the Club has
ever had, sponsoring the BAC veteran's award for the past 44 years and for a number of years as the club aggregate
sponsor. George also sponsored the iconic local Eaglehawk to Bendigo race over 6.4km from 1980 until its final run in 2014.
Other notable races that George has sponsored over the years are:
- Richard Kitt memorial (Labour Day weekend)
- QEO race at the Bendigo Football League grand final.
- 1600m at the Stawell Gift
Thank you George for being a great servant for the Club over so many years. The work you have done for the Club
does not go unnoticed and we solute you for all your efforts.
By Michael Preece