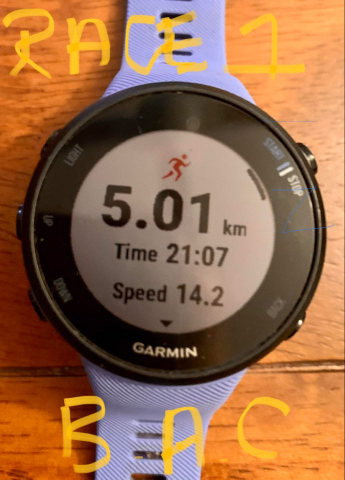 Fake News from Round 1 – Sunday 26th April 2020
The rain and chill factor didn't stop these dedicated BAC runners from having a crack at Round One of the covid-cross-country-capers!  Although we all missed our usual gathering and sealed handicap at the Rifle Range it was great to dust off the runners and have a go at getting into the routine of Sunday morning running.  The morning tea was missed but there was plenty of banter on messenger.
Many of us are missing chasing down or being chased by our fellow BAC runners.  Wishing you a speedy recovery Bayo!  Chook will need supervision getting those direction markers out down the track - the Corona Track!
Stay tuned for next weeks 6.5km challenge on Sunday @10.30am from your location. 
Name

Location

Distance

Time

Comment

Justine

Crusoe

½ marathon

 

Longest distance winner and most improved since this time last year – You Go Girl!  And while holding hand weights!

Aaron

 

11.8km / 1st 5km

24:09

2019 Club Champ has stepped over the mark with an extra 6.8km to his name for week one

Dynamic duo

Sebastian and Perds

Quarry Hill/Spring Gully

6km

33.55

Inspiring and sticking to the Covid rules!

Rhonda

 

5.07

37.58

No stopping you Rhonda, rain, hail or shine – neighbours were totally impressed.

Kevin

Burns St Spring Gully

5km

26.47

You chose a tough wild n wooly hill for the first week Kev! Driven!

Peter Le Busque

Ross St

5km

22.42

Cracking time Peter, watch out Rick he is onto you!

Hayesy

Spring Gully

5km

34.45

Livin the dream Pete – no timing duties!

Hilso

Whitehills

5km

21.24

4.17 pace awesome start to the season!

Kane

The Flat

5km

27.12

Awesome comeback run Kane after the very painful and annoying plantar fasciitis!

Ing

Rifle Range

5.01km

21.07

Miss you all!

RIck

 

5km

22.30

That's an ace time Rick!

Kylie

Quarry Hill

 

 

Fired up the go button and was stoked to be back into the running after a bit of time off due to injury