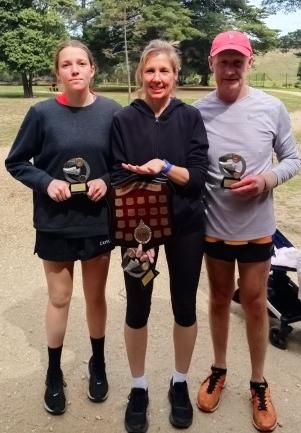 A great turnout enjoyed a fantastic morning at No.7 Reservoir as 6 teams of 3 competed in the Barry Stevenson Memorial Handicap, sponsored by Edwards Environmental.
Ingrid and Livinia Douglass and Peter Hayes ran a near perfect race to comfortably win by over 4 minutes.
Each runner in the relays completed 2 laps each of the 1.4km circuit. Afterwards all in attendance enjoyed morning tea and a catch up.  It could be argued that the real highlight of the day was the delicious spread provided by our many talented bakers.
It may become our new slogan - Bendigo Athletic Club: Come for the running, stay for the food!
| | | | | | |
| --- | --- | --- | --- | --- | --- |
| Runner | Livinia | Ingrid | Peter |   |   |
| Lap 1 | 06:29.2 | 05:19.2 | 06:51.0 |   |   |
| Lap 2 | 06:27.2 | 05:19.1 | 06:51.9 |   |   |
| Total | 12:56.4 | 10:38.3 | 13:42.9 | 37:17.6 |   |
| Go Time |   |   |   | 00:00.0 |   |
| Race Time |   |   |   | 37:17.6 | First |
|   |   |   |   |   |   |
| Runner | David | Kevin | Trevor |   |   |
| Lap 1 | 05:27.6 | 05:54.1 | 05:05.8 |   |   |
| Lap 2 | 05:15.2 | 05:48.0 | 04:53.6 |   |   |
| Total | 10:42.8 | 11:42.1 | 09:59.4 | 32:24.3 |   |
| Go Time |   |   |   | 09:25.0 |   |
| Race Time |   |   |   | 41:49.3 | Second |
|   |   |   |   |   |   |
| Runner | Kylie | Melissa | Justine |   |   |
| Lap 1 | 07:06.8 | 06:50.6 | 07:26.7 |   |   |
| Lap 2 | 07:12.7 | 06:56.0 | 07:25.9 |   |   |
| Total | 14:19.5 | 13:46.6 | 14:52.6 | 42:58.7 |   |
| Go Time |   |   |   | 00:00.0 |   |
| Race Time |   |   |   | 42:58.7 | Third |
|   |   |   |   |   |   |
| Runner | Kerry | Nick | Adam |   |   |
| Lap 1 | 06:34.9 | 05:00.1 | 05:09.3 |   |   |
| Lap 2 | 06:28.4 | 05:20.3 | 05:26.0 |   |   |
| Total | 13:03.3 | 10:20.4 | 10:35.3 | 33:59.0 |   |
| Go Time |   |   |   | 09:25.0 |   |
| Race Time |   |   |   | 43:24.0 | Fourth |
|   |   |   |   |   |   |
| Runner | Demi | Joey | Lachlan |   |   |
| Lap 1 | 06:40.0 | 05:48.3 | 04:20.7 |   |   |
| Lap 2 | 06:49.9 | 06:32.6 | 05:05.2 |   |   |
| Total | 13:29.9 | 12:20.9 | 09:25.9 | 35:16.7 |   |
| Go Time |   |   |   | 08:10.0 |   |
| Race Time |   |   |   | 43:26.7 | Fifth |
|   |   |   |   |   |   |
| Runner | Richard | Mark | PLB |   |   |
| Lap 1 | 06:49.6 | 05:44.6 | 06:18.1 |   |   |
| Lap 2 | 06:53.7 | 05:46.1 | 06:05.4 |   |   |
| Total | 13:43.3 | 11:30.7 | 12:23.5 | 37:37.5 |   |
| Go Time |   |   |   | 05:55.0 |   |
| Race Time |   |   |   | 43:32.5 | Sixth |