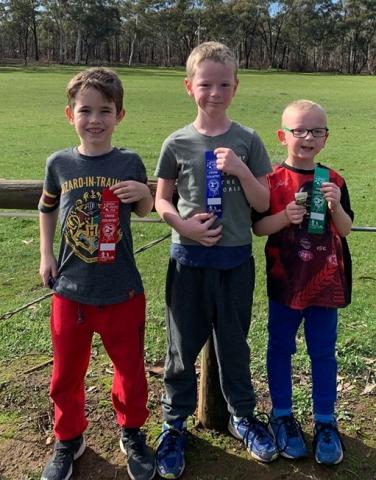 Caleb Marron has taken out Race 8 of the children's 1km run held this morning out at Woodvale Recreation Reserve.
Thankfully with the weather cleared, a field of 10 children took part. Starting off a handicap of 1 min 10 secs Caleb took the lead with about 400 metres to go and held on to win by a great margin of 20 seconds. Second and third was a great tussle with Jack Gaskin narrowly edging out Dylan Marron for 2nd and 3rd respectively.
4th place went to Olivia Gaskin who held out a rampaging Kai Norton by 1 second, who finished 5th.
Don't forget we have a week's break with school holidays (woohoo) and then we are back again on Sunday 14th July out at Mandurang Cricket Ground. Today's results were;
1 Caleb Marron 5:21
2 Jack Gaskin 4:51
3 Dylan Marron 6:13
4 Olivia Gaskin 5:04
5 Kai Norton 4:45
6 Milly-Rose Goodall-Hoffman 7:05
7 Edward Boase 4:37
8 Quinn Guthrie 6:10
9 Maeve Goodall-Hoffmann 8:12
10 Abel Boase 8:15