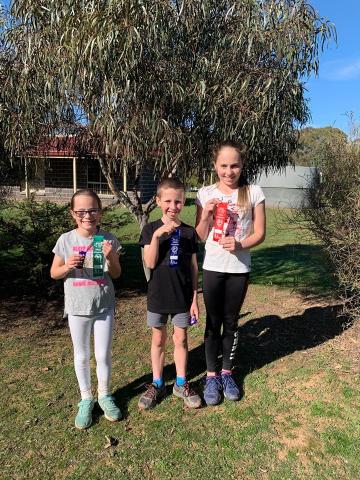 Edward Boase has won today's Race 5 of the kids 1km run held at Keith Noden's property in the beautiful Whipstick.
Consistently the last runner to leave each week, Edward has the hard job of chasing everyone down! Today was the day he caught them all, holding off his sister Amelia to grab a well deserved win. Amelia claimed second from Olivia Gaskin, who narrowly beat her brother Jack to grab 3rd place. Keeping up the sibling order of finishing, we had Dylan Marron hold off his brother Caleb, whilst Abbey Cutler just edged out sister Emelia. Finishing the list was Maeve Goodall-Hoffman who was no doubt upset that big sister Milly-Rose was too sick to run! Young Abel Boase started the race but the big occasion got the better of him, we're sure he'll be back bigger than ever next run!
Don't forget we have a week off next Sunday, enjoy the sleep in!
Edward Boase
Amelia Boase
Olivia Gaskin
Jack Gaskin
Dylan Marron
Caleb Marron
Abbey Cutler
Emelia Cutler
Maeve Goodall-Hoffman
Abel Boase