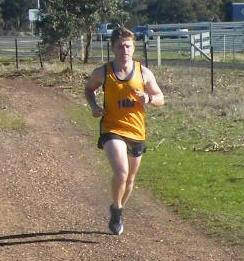 Andrew Sait has raced to his second victory in the Bendigo Athletic Club Cross Country season, taking out the 3.2km non-penalty handicap held at No. 7 Reservoir.
Earlier in the season, Sait claimed Victory in the 6.5km race 5 held at Whipstick.
A field of 28 runners lined up to contest the Bendigo Living Plant Hire sponsored event with Sait starting mid field off a handicap of 4:50.
Sait started off strongly in his pursuit of the group of runners in front of him which included Sait's Father 'Tony Sait' who started 10 seconds in front of Sait and had also won a race previously in the season.
Runners had to persevere through strong winds and tough hills around the No. 7 track which ultimately saw Sait hold the advantage and cruise home to a 25 second victory over 2nd placed Dan Ryan.
Battle for 2nd place was closely contested between Dany Ryan and Jacob Nolan with Dan Ryan narrowly holding off a fast finishing Nolan for 2nd place with Nolan finishing in 3rd.
Fastest time went to Nolan in 11:17 from Dan Ryan in 11:55 with Ingrid Douglass running the fastest for the women in 14:02.
Next Sunday will accumulate with the final race of the season, the Dick Kitt final which will ultimately decide who wins the prestigious aggregate award.