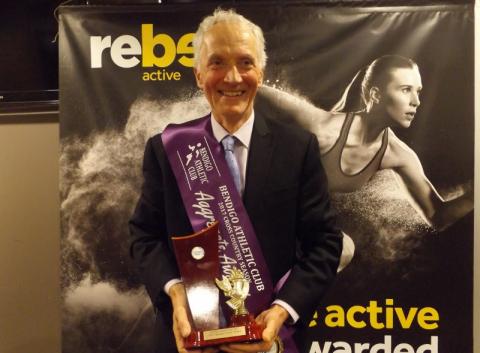 Kevin Shanahan Wins Cross Country Title for a Third Time!
MORE than three decades after capturing the Bendigo Athletics Club's cross country aggregate, Kevin Shanahan has done so again.
Shanahan is the first athlete in the club's history to be a three-time winner of the prestigious award.
The long-time competitor scored 136 points to earn the award for the 2017 season.
The club's awards presentation was held at the aptly-named Chaser's Function Centre at the Bendigo Greyhound Racing Club in Junortoun on Saturday night.
Runner-up in this season's aggregate race was Dan Ryan, 128, from 17-time club champion Rick Ermel, 124, with Ben Goode and John Bailey locked on 123 points in equal fourth place.
The BAC aggregate champion in 1985, Shanahan also triumphed in the 2000 season.
Shanahan's run to glory this year included victory in the 11th round, a 6.5km duel at Crusoe Reservoir, and racing in all 13 legs this season.
He also also achieved back-to- back Gary Hogan trophy wins for most points.
The club champion was Jacob Nolan from Adam Parker and Dan Ryan.
A great season for Nolan included winning the Liz and Mark Findlay-sponsored under-23 award.
The open age award was earned by Adam Parker.
Winner of the women's award, was Rhonda Schultz.
John Bailey won the veteran's award.
Mark Findlay presented the handicapper's award to Dan Ryan.
Winners of the Barry Stevenson relay were Demi Goodall-Hoffman, club president Mark Perdon and his son, Lachlan.
Best clubperson was Jacob Nolan who not only excelled in many races, but also put in a lot of time writing race reports, updating social media posts, and as a BAC committee member.
John Burke, Mark Findlay, Rhonda Schultz and Bev Watson were presented with appreciation awards.
Venues for this year's BAC races included Mandurang, Woodvale, Wellsford Forest, Greenvale, Whipstick Forest, Kangaroo Flat, and Keith Noden's property.