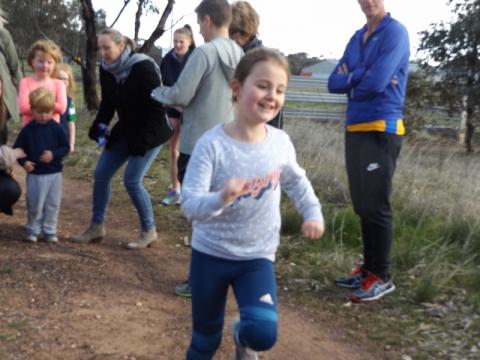 Today was the last junior race of the season, where the regular style of handicap racing was ditched in favour of a relay.
Each junior paired up to form a team all except Isabella Ellis who was tough enough to go it alone.
Brother and sister, Alexander and Harper-Lee Basten teamed up and easily beat the competition with a great team time of 14:00
Finishing behind the Basten's was the other sibling combo of Georgia and Freya White running a team time of 15:42.
Behind the White sisters was the team of Milly Rose Goodall-Hoffman and Baxter Parker followed by the one girl team Isabella Ellis.
Tabitha Goode and Georgia ran well to finish in 5th place, finishing off the junior racing for the year.
Place
Athlete
Go
Time
Individual
Time
Team
Time
 
Alexander Basten
 
07:53.0
 
1
Harper-Lee Basten
00:00.0
06:07.0
14:00.0
 
 
 
 
 
 
Georgia White
 
07:36.0
 
2
Freya White
01:25.0
06:41.0
15:42.0
 
 
 
 
 
 
Milly Rose Goodall-Hoffman
 
08:35.0
 
3
Baxter Parker
02:45.0
04:45.0
16:05.0
 
 
 
 
 
 
Isabella Ellis
 
05:20.0
 
4
Isabella Ellis
05:30.0
05:40.0
16:30.0
 
 
 
 
 
 
Tabitha Goode
 
08:38.0
 
5
Georgia Ryan
01:50.0
07:17.0
17:45.0