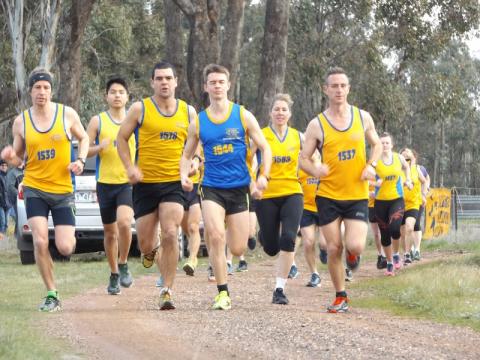 20 runners lined up for the Bendigo Athletic Club's final race of the season out at Huntly Livestock Exchange with every participant vying for a chance at claiming the prestigious win.
The Dick Kitt final was run under sealed handicap conditions with every athlete going into the final not knowing where they sit handicap-wise.
Jacob Nolan took line honours, running the fastest time of 23:12 over the 6.5km distance sponsored by Flack Advisory.
Not far behind Nolan was Adam Parker with Dan Ryan finishing further behind.
The field were met with savage winds going into the Dick Kitt final, however this didn't hinder the efforts of most runners with over half the field running their season-best times.
The most improved run came from Tony Sait who ran nearly two and a half minutes quicker than his previous best time during the season.
Following Sait for most improved were Carol Stewart and Demi Goodall-Hoffman with both runners beating their previous best's by nearly two minutes.
Next Saturday night is the BAC presentation night held at Chasers Room at Lords Raceway where the winner of the Dick Kitt Final and the Rebel Sport Aggregate Award will be announced.
Times from today's Flack Advisory Dick Kitt Final:
| | |
| --- | --- |
| Jacob Nolan | 23:12 |
| Adam Parker | 23:25 |
| Dan Ryan | 23:57 |
| Ben Goode | 24:39 |
| Greg Hilson | 25:01 |
| Reza Azimi | 26:32 |
| Rick Ermel | 27:18 |
| Lachlan Perdon | 27:31 |
| Ingrid Douglass | 28:05 |
| Kevin Shanahan | 28:19 |
| John Bailey | 29:17 |
| Tony Sait | 29:26 |
| Rod Stewart | 29:31 |
| Mark Perdon | 30:39 |
| Kane Ellis | 31:00 |
| Chook Stewart | 31:46 |
| Demi Goodall-Hoffman | 34:43 |
| Richard Schultz | 36:25 |
| Rhonda Schultz | 38:21 |
| Carol Stewart | 41:14 |