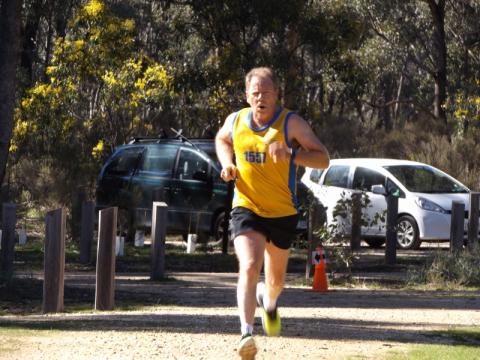 Rick Ermel has taken out the 3.2km non-penalty at No. 7 Reservoir, making this his second win this season with the Bendigo Athletic Club.
The Bendigo Living Plant Hire sponsored event promised to be a different kind of race, with every runner's handicap being reset to allow every participant including previous race winners a chance for a win.
Ermel started off in the middle of the field consisting of 22 runners and knew he had little time to catch the 14 runners ahead of him over the short 3.2km distance.
Approaching the first hill which led through the No. 7 reserve, Ermel made his way past the first group of runners being led by Rod Stewart.
As Ermel reached the top of the hill he could see the next group of runners a few hundred metres ahead of him.
Race leaders Tony Sait and Mark Perdon looked far away, but this didn't deter club veteran Ermel who quickly gained on the leader going around the lake.
As Ermel came upon the leaders he also encountered the final gruelling hill of the 3.2km course.
Ermel used this hill to his advantage leaving Sait and Perdon behind and continued to run on to a 20 second victory.
Second in the Sunday race was Tony Sait followed by first year BAC runner, Matt Sulivan.
Fastest time went to Jacob Nolan in 10:51 with Adam Parker coming in at 2nd fastest.
Next Sunday is the last BAC race, the Dick Kitt final which will decide who win the prestigious Club Aggregate award.