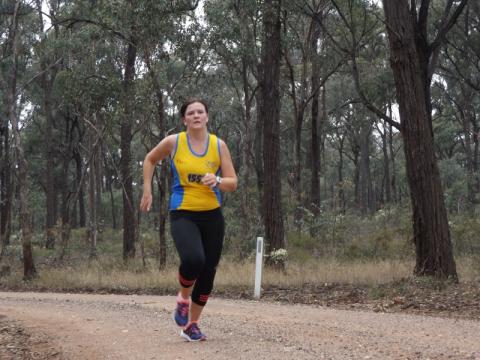 Demi Goodall-Hoffman has run an excellent race to take out race 12 of the Bendigo athletic club.
A field of 20 lined up for the 5km at Wellsford Rifle Range where runners were met with warmth and sunshine compared to last Sunday's wet and cold conditions.
Goodall-Hoffman was the 4th runner to leave the start and immediately set off at a strong pace to catch the three runners ahead of her.
Approaching the halfway mark, Goodall-Hoffman ascended into 2nd place, overtaking Carol Stewart and Kerry Ellis.
With one more runner to pass, Goodall-Hoffman started gaining momentum and eventually caught race leader Rhonda Schultz, going into the last half of the race.
Sensing victory was hers, Goodall-Hoffman sped off in the last 2km of the race, smashing her nearest rival by 1:08 to win the AL Parker Electrical sponsored event.
After having surgery during the start of the season, Goodall-Hoffman has showed great commitment to improve from near last place in her previous runs to 1st place making todays win all the more impressive.
Another great run today from Mark Perdon, who has incredibly improved from last position in previous races to 2nd position in Sundays race.
3rd went to Rhonda Schultz.
Next race is the 3.2km non-penalty at NO. 7 Reservoir, starting 10:30am.
Category results:
Women: 1st Demi Goodall-Hoffman, 2nd Rhonda Schultz, 3rd Ingrid Douglass.
Under 23: 1st Demi Goodall-Hoffman, 2nd Reza Azimi, 3rd Jacob Nolan.
Veterans: 1st Mark Perdon, 2nd Rhonda Schultz, 3rd John Bailey.
Fastest time: 1st Jacob Nolan (17:01), 2nd Dan Ryan, 3rd Ben Goode.
Open: 1st Dan Ryan, 2nd Ben Goode, 3rd Adam Parker.