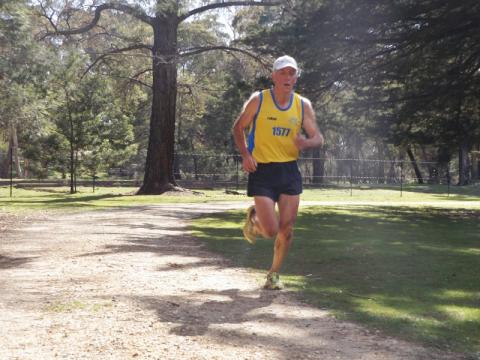 After finishing the runner up in the last two club races, Masseur/Naturopath Kevin Shanahan has finally claimed victory in race 11 of the Bendigo Athletic Club season.
Sunday's conditions were wet, windy and cold for the 19 runners that lined up for the 6.5km run at Crusoe reservoir, however this didn't faze the brave Shanahan, who brushed off the cold to blitz the field.
Shanahan started off in the middle of the field and quickly went to work passing the likes of Mark Perdon and Chook Stewart before passing another stretch of runners being led by Kane Ellis and Tony Sait.
With a couple of km to go, Shanahan past current race leader, Demi Goodall-Hoffman and proceeded to leave a 40 second gap between himself and 2nd placed runner, Lachlan Perdon to win the Rising Sun Hotel sponsored race.
Perdon has been running well this season, having achieved a 2nd place in the 3km race earlier in the season.
Coming in at 3rd place was the consistent placegetter Adam Parker, followed by Demi Goodall-Hoffman who has run a great race to improve on her 13th position from her last race.
A long time professional runner, Shanahan can add today's win to his many successes, which includes winning the prestigious BAC aggregate award twice.
Today's win also puts Shanahan in a good position to win the BAC Gary Hogan Trophy.
Next Sunday's race will be run at Wellsford rifle range again rather than at Marong as stated in the program due to event clashes.
Category results:
Veterans: 1st Kevin Shanahan, 2nd John Bailey, 3rd Rod Stewart.
Under 23: 1st Lachlan Perdon, 2nd Demi Goodall-Hoffman, 3rd Jacob Nolan.
Open: 1st Adam Parker, 2nd Dan Ryan, 3rd Ben Goode.
Fastest Time: 1st Jacob Nolan (23:51), 2nd Adam Parker, 3rd Dan Ryan.
Women's: 1st Demi Goodall-Hoffman, 2nd Rhonda Schultz, 3rd Ingrid Douglass.