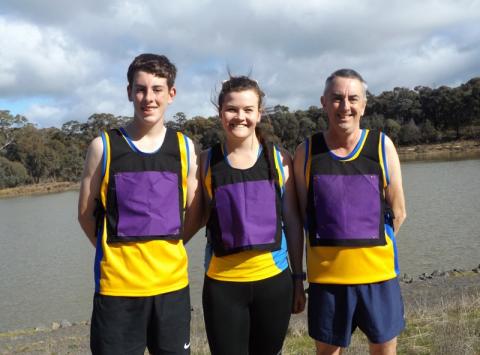 This Sunday saw a change in direction for members and guests of the Bendigo Athletic Club.
The usual format of runners competing separately for individual success made way for a more relaxed racing environment with the running of the annual Barry Stevenson Relay event kindly sponsored by Central Test.  The event held at No. 7 Reservoir in Kangaroo Flat, saw family members competing with & even against each other with many friendly rivalries amongst other members and some new faces as well.
Athletes formed teams of three which were then handicapped according to ability.  Each competitor needed to complete 1 lap of the 1.4km loop around No. 7 Reservoir before tagging the next runner in their team until all three runners had completed 2 laps each.
A good turnout from athletes meant that 8 teams in total were all vying for the prizemoney and of course bragging rights as this year's relay champions!
Although the atmosphere was indeed friendly & very encouraging there was no mistaking every team & member in each giving their all with athletes pushing themselves to the limit for their respective teams!
In the end, this year's honours went to the team of Demi Goodall-Hoffman, Mark Perdon & Lachlan Perdon who crossed the line in first position.  Incredibly all three runners ran terrific times and all backed up their first run with either the same time or quicker for the second lap in a truly consistent team performance!
Taking out second place today was the Ellis family team with Kerry, Kane & Caleb Ellis all running well with Kerry & Kane managing to outdo their son Caleb by also running quicker on the second lap as well.
Rounding out the top three today was the team of Rhonda & Richard Schultz teaming up with previous race winner, Ryan Shelton.
The fastest overall team today was that made up of Reza Azimi, Dan Ryan & Adam Parker.  Parker also ran fastest individual time of 4.16 min for his second lap after going around in 4.17 min for the first lap.
But one of the great runs of the day was produced by a team that actually finished in last position.  The team was made up of the youngest runners on the day in Isabella Ellis, Jack Parker & Baxter Parker.  The kids aged 11, 8 & 10 respectively normally only compete in the 1km kids races each week so a terrific effort just for them to be able to complete the two laps each which all three did and give it their all to the applause of those spectating at the finish.
Next week sees the resumption of racing as normal with the running of race 11 to be held at Crusoe Reservoir over the 6.5km distance.  This race is generously sponsored by The Rising Sun Hotel and there will be a social lunch to be held there after the race from 12.30pm onwards with all members encouraged to attend.
There will also be a children's 1km event following the adult race which starts at 10.30am.
| | | | |
| --- | --- | --- | --- |
| Place | Runner | Lap 1 | Lap 2 |
| 1 | Demi Goodall-Hoffman | 06:44.0 | 06:44.0 |
|   | Mark Perdon | 05:32.0 | 05:29.0 |
|   | Lachlan Perdon | 04:50.0 | 04:49.0 |
|   |   |   |   |
| 2 | Kerry Ellis | 07:52.0 | 07:44.0 |
|   | Kane Ellis | 05:53.0 | 05:51.0 |
|   | Caleb Ellis | 05:28.0 | 05:37.0 |
|   |   |   |   |
| 3 | Rhonda Schultz | 07:30.0 | 07:31.0 |
|   | Richard Schultz | 06:11.0 | 06:33.0 |
|   | Ryan Shelton | 06:02.0 | 06:36.0 |
|   |   |   |   |
| 4 | Rod Stewart | 05:26.0 | 05:25.0 |
|   | Kevin Shanahan | 05:26.0 | 05:34.0 |
|   | John Bailey | 05:18.0 | 05:24.0 |
|   |   |   |   |
| 5 | Jess O'Hara | 05:28.0 | 05:29.0 |
|   | Greg Hilson | 04:40.0 | 04:49.0 |
|   | Matt Sullivan | 04:41.0 | 04:48.0 |
|   |   |   |   |
| 6 | Toni Phillips | 06:39.0 | 06:42.0 |
|   | Dave Chisholm | 04:58.0 | 05:32.0 |
|   | Ben Goode | 04:25.0 | 04:26.0 |
|   |   |   |   |
| 7 | Reza Azimi | 04:41.0 | 04:42.0 |
|   | Dan Ryan | 04:48.0 | 04:39.0 |
|   | Adam Parker | 04:17.0 | 04:16.0 |
|   |   |   |   |
| 8 | Isabella Ellis | 07:32.0 | 07:46.0 |
|   | Jack Parker | 06:49.0 | 06:59.0 |
|   | Baxter Parker | 06:37.0 | 06:36.0 |