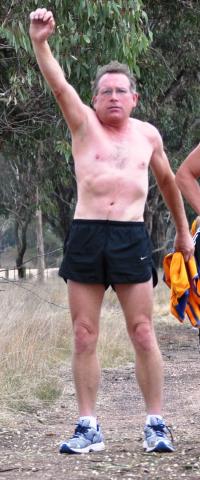 Concreter John Bailey has taken out the win for race 10 of the Bendigo Athletic Club.
Bailey ran a time of 35:36, in the 8km event held at Woodvale recreation Reserve.
Starting in the middle of the field, Bailey began his pursuit of the four runners ahead of him.
Bailey hardened himself going into the middle stages of the event, catching Mark Perdon, and overtaking Richard and Rhonda Schultz before overtaking Kane Ellis.
With less than 3km to go, Bailey looked set to win, however Bailey could sense the likes of Kevin Shanahan and backmarker Adam Parker fast approaching.
Bailey still had energy to spare however and kicked off the concrete boots to run on strongly to hold off the fast finishing duo and win the Viatek sponsored event.
Behind Bailey, a great duel ensued between Shanahan and Parker with Shanahan narrowly beating Parker home to claim 2nd place.
Today's win was well deserved for Bailey who has had to endure four years without a 1st placing with his last win back in 2013.
Category results:
Veterans: 1st John Bailey, 2nd Kevin Shanahan, 3rd Rod Stewart.                     
Open: 1st Adam Parker, 2nd Dan Ryan, 3rd Ben Goode.
Fastest time: 1st Jacob Nolan (28:25), 2nd Adam Parker, 3rd Dan Ryan.
Women: 1st Rhonda Schultz.
Under 23: 1st Jacob Nolan, 2nd Reza Azimi.