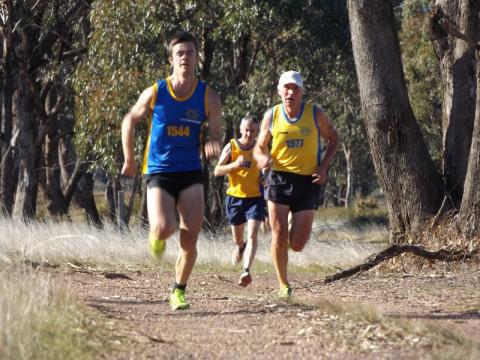 Jacob Nolan has taken out the win for race 9 of the Bendigo Athletic Club at Notley's Reserve.
Nolan started at the back of the pack in the 6.5km Schultz and Stewart Landscaping sponsored run and had some work to do in order to catch the 14 runners ahead of him.
Passing fellow backmarkers 'Adam Parker' and 'Dan Ryan' through the middle stages of the race, Nolan came upon the final hill of the race where the main group of runners were slowly ascending the 500m climb, being led by Kevin Shanahan and John Bailey.
Nolan made the most of his recent hill training sessions to storm up the hill and overtake all but two of the race's participants.
With the leaders now in his sights, Nolan lifted a gear and began to rapidly close the gap.
At 300m to go, Nolan passed Bailey and began a final sprint after Kevin Shanahan, however Shanahan could hear Nolan coming and made a last minute dash for the finish.
Shanahan's strength was no match for Nolan though as the younger athlete flew past Shanahan to take out Sunday's win in a time of 22.35.
Nolan returned to this years BAC cross country season after taking home back-to-back Club Championships with the Victorian Cross-Country League.
Category results:
Fastest time: 1st Jacob Nolan (22.35), 2nd Adam Parker, 3rd Dan Ryan.
Under 23: 1st Jacob Nolan, 2nd Lachlan Perdon, 3rd Demi Goodall-Hoffman.
Veterans: 1st Kevin Shanahan, 2nd John Bailey, 3rd Rod Stewart.
Open: 1st Adam Parker, 2nd Dan Ryan, 3rd Ben Goode.
Women:  1st Rhonda Schultz, 2nd Demi Goodall-Hoffman.