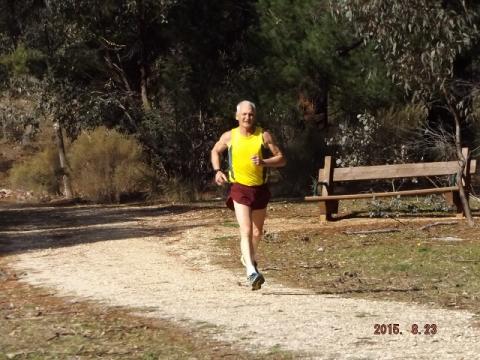 Long-time Bendigo athletic club runner, Rod Stewart has taken out race 4 of the BAC. The race was hard fought with 500m to go as Greg Hilson made an attempt to take the lead, however Stewart made a gutsy last minute dash to hold off Hilson and win the Phil Noden sponsored 6.5km event. It was a great run by the seasoned veteran who managed to improve on his last 6.5km time by an impressive 44 seconds. Stewart came out of retirement 2 years ago after a rich history in pro running which includes back to back club championships with the BAC as well as impressive wins with the Victorian Athletic League with one of the highlights being a victory in the prestigious Herb Hedemann. Ben Goode also ran well to finish in 3rd place.
Stewart also achieved first in the veteran's category in front of Hilson and Paul Bennett.
Ben Goode came first in the open category followed by Adam Parker and Matt Sullivan.
Jacob Nolan took out fastest time in 22.49 ahead of Adam Parker and Ben Goode.
Nolan also took out the U23 category followed by Reza Azimi and Lachlan Perdon.
Ingrid Douglass finished first in the women's category in front of Rhonda Schultz and Carol Stewart.
Next Sunday's race is a combined 8km event with the VCCL down in Woodlands, Bulla near the Melbourne airport starting at 10am.