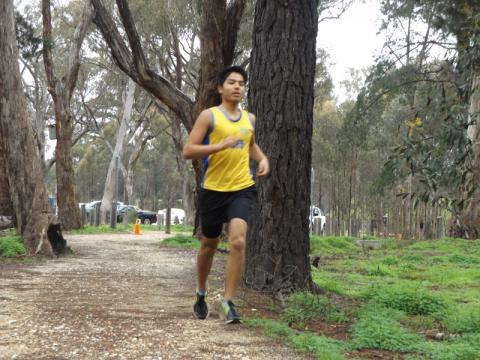 Race 2 was a hard-fought struggle between young gun Reza Azimi and former club champion Rick Ermel with both runners vying for first in the 6.5km event at Mandurang. Rick Ermel looked strong going into the final stretch of the race but it was Azimi that had youth on his side which he used to his advantage and surged ahead of Ermel to win the race in a time of 26:01, 18 seconds clear of Ermel. Azimi, a relatively new member, started running with the Bendigo Athletic Club in 2015 where he won the Rising Sun Hotel feature race. Rick Ermel having come 2nd again in the racing has sworn that no other runner will beat him again in the next club race.
Jacob Nolan might have something to say about that though with Nolan finishing 10 seconds behind Ermel in third whilst also holding firm in the running for the Club Championship by taking out the fastest time again with a time of 23:19 ahead of Adam Parker and Dan Ryan.
Rick Ermel came first in the veteran's category, with Kane Ellis coming second and Ingrid Douglass coming third.
Ingrid also finished first in the women's category ahead of Gabby Sait and Rhonda Schultz.
Reza Azimi also took out first in the U23 category in front of Jacob Nolan and Lachlan Perdon
Ryan Shelton had the honour of first place in the open category ahead of Adam Parker and Dan Ryan.
Next weekend is a break for the club with racing resuming on 21st May at Woodvale Recreation Reserve.