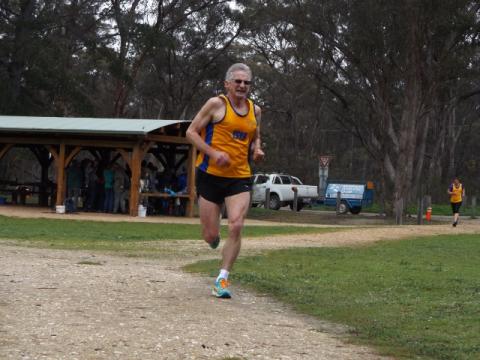 After finishing second in both of the last two events Paul Bennett started as the hot favourite in Sunday's Rising Sun Hotel non-penalty race at No. 7 Reservoir.  The added pressure made no difference to the experienced physio however, and the popular Paul took the event with a comfortable 10 second victory margin.
Capping off an impressive first season Carol Stewart stormed into second place, relegating second-year runner Reza Azimi to third.  As well as third place Reza also ran third Fastest Time for the event behind the more experienced Adam Parker and Simon Hunt.
The shorter 3.2km distance attracted some new runners for the race, with Connor Findlay and Jazlin and David Fear all having their first senior starts with the Club.
With the completion of the regular season, attention now turns to the Flack Advisory-sponsored Dick Kitt Final to be held at the Huntly Livestock Exchange this Sunday.  A field of 21 have qualified to run this event and it is considered to be the most open Final for many years with practically every runner having a claim to be considered a possible winner.
However at the end of a long gruelling winter season the winner may be the competitor who has most successfully dodged illness and injury during the last few weeks.